Share:
---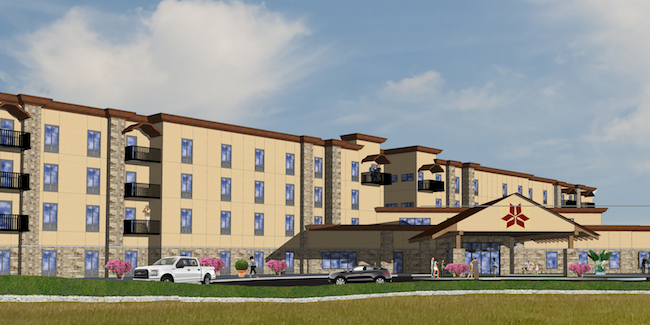 Shangri-La Golf Club's Construction of a New Resort Hotel is Underway!
Shangri-La's new resort hotel is scheduled for opening April, 2017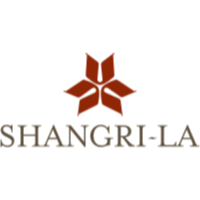 Shangri-La Golf Club, Resort & Marina on northeastern Oklahoma's Grand Lake O' The Cherokees continues to grow, expand and add amenities to entice golfers and vacationers from across the country. Official groundbreaking ceremonies were held Friday, April 15, 2016 for a new 120-room resort hotel scheduled to open in less than a year - April 1, 2017.

Approximately 300 dignitaries, members, and well-wishers joined Shangri-La owner Eddy Gibbs and his management team on the hotel site to view plans, renderings, and celebrate another giant leap in the continuing expansion of the resort. Eddy Gibbs purchased the deteriorating property six short years ago in March, 2010. Since that time, not a day has passed without another project being under construction. The golf course was totally rebuilt into a magnificent 27-hole championship course that is attracting golf groups from throughout the nation. A new 14,000 square foot club house was built, housing the golf shop as well as a fitness center, a fine dining restaurant and lounge area. The first of several residential developments is nearing completion, and now a new resort hotel is on the near horizon.

A wide array of dignitaries joined in the groundbreaking ceremonies including former Oklahoma Governor George Nigh who provided an historic highlight to Shangri-La's history by hosting the National Governors Conference at the resort in 1982. Shangri-La owner Eddy Gibbs, General Manager Jason Sheffield, and Vice-President of Operations Jon Davidson (who will supervise the hotel construction as well as manage it after completion) also provided attendees with details of the project. The hotel is a design-build project developed under the direction of the Tulsa-based Ross Group. Ross Group President Warren Ross, Chief Operating Officer Rusty Edmiston, Operations Manager Bryan Miles, and Project Manager Brian Travis also joined in the groundbreaking festivities.

In addition to 120 guest rooms including a mix of standard doubles, kings, and suites, many with balconies overlooking Grand Lake, the new four-story Shangri-La Resort Hotel will include an outdoor resort pool, and indoor pool, gym and spa, a casual dining restaurant, indoor and outdoor bar & grill facilities, a rooftop bar, 8,000 square feet of conference space, and a variety of relaxation features including a splash pad, children's playground, and areas for volleyball, horseshoes, and other outdoor entertainment activities.

For additional information on available amenities and packages at Shangri-La Golf Club, Resort & Marina, contact them at 918-257-4204.

News Source: Shangri-La Golf Club & Resort
Posted May 7, 2016 || Viewed 2,634 times || View Course Profile
Share Comment